Chef Zuliya switched to a plant-based diet several years ago, and soon after started sharing her favorite recipes with the world to show that a plant-based diet doesn't have to be challenging, limiting, or expensive.
When it comes to sweets especially, it can be easy to think that rich flavors come from butters and creams — Chef shows us there are many more alternatives that taste as delightful and satisfying!
If you haven't yet explored her Instagram and blog, be sure to zip on over today. You'll discover an array of beautiful and nourishing plant-based meals that anyone can whip up at home.
Try something new today and make this Chocolate Strawberry Mousse – the perfect dessert for impressing your significant other or friends!
The word on everyone's lips will be "love!"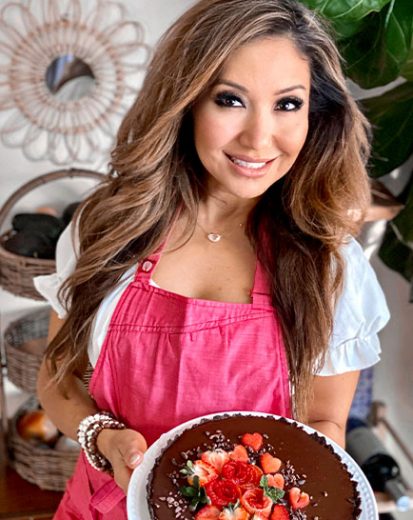 Vegan Chocolate Tart Recipe:
Ingredients:
12 Oreo cookies or use gluten free chocolate wafers for gluten free option
1/4 cup melted coconut oil or vegan butter
1/2 tsp Himalayan pink salt
Filling:
1 can coconut milk (13.5 oz)
1 tbsp of coconut oil (optional)
1 cup of dark vegan semi-sweet chocolate morsels or use dark chocolate (chopped in small pieces)
1/3 cup maple syrup or sugar (optional)
1/2 tsp Himalayan pink salt
1/2 tsp chili powder
1 tsp pure vanilla extract
Toppings: organic strawberries or any other organic berries
Method:
Mix crust ingredients together in a bowl and then put it on a parchment paper lined tart pan. Distribute the crust evenly, pressing around the edges. We will put the crust in the freezer while we prepare the chocolate filling.
Filling:
Heat the coconut milk in a sauce pan and bring it to a gentle boil. Lower the heat then add the coconut oil, chocolate morsels, vanilla, salt and chili powder. Combine until the filling is smooth. Pour the filling into the crust slowly. Carefully transfer the tart to the freezer and leave for at least for 3 hours to set. Best to leave it overnight in the fridge. Once the tart is cool, decorate with berries!